Local 162 Shop Stewards Attend Workshop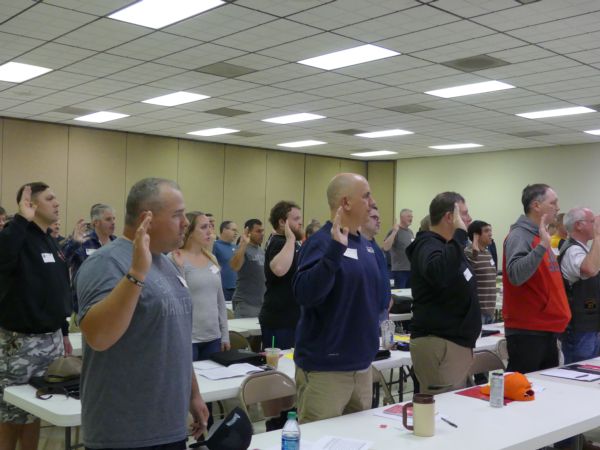 Reaffirming the Teamster oath at the Local 162 shop steward workshop.
Teamsters Local 162 Secretary-Treasurer Bob Sleight and President Mark Davison conducted a shop steward education workshop on September 23 at our Union hall in Portland. The workshop was led by well known attorney Michael J. Tedesco of the Tedesco Law Group in Portland. Tedesco specializes in representing Union's throughout the Northwest and he represents Local 162 in all facets of labor law such as in arbitrations and unfair labor practices.
"Stewards are the first line of defense when dealing with management," said Tedesco. "Understanding your rights and the rights of Teamster members is important. Your Local 162 officers are experienced and effective in what they do and your role in supporting them is critical as you all work to maintain a strong and thriving Union.
Shop Stewards from throughout Local 162 jurisdiction were provided information on Weingarten, steward guidelines for representing members in investigatory interviews, identifying unfair labor pratices, just cause and the duty of fair representation.
The workshop was interactive and real life examples were shared and questions answered on all of the topics that were covered. An updated Local 162 steward handbook was also provided and other handouts on the legal rights of stewards.
"On behalf of our executive board and membership, we want to thank all of our stewards for their hard work and dedication to the cause of labor," said Local 162 Secretary-Treasurer Bob Sleight.
Download: