Local 162 Member Retires After 40 Years at UPS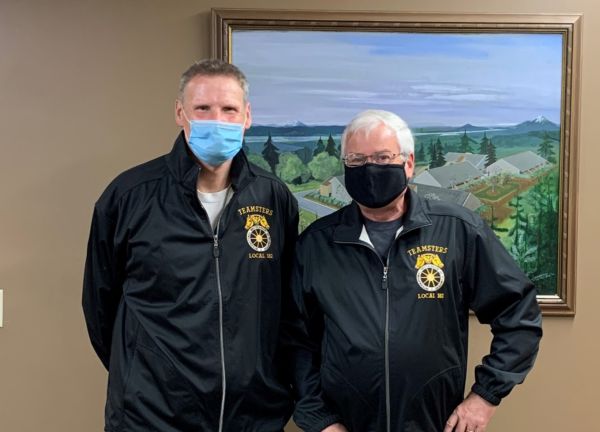 Local 162 Business Agent Ben Vedus congratulating Allen Fuerstenau on his 40 years of service at UPS.
Teamsters Local 162 would like to congratulate Allen Fuerstenau on retiring from UPS after 40 years of service!
Allen started out in the night shift unloading at Portland's Swan Island UPS hub in 1980. He then moved to Small's where he stayed for the duration of his career, switching from the Night shift to the Day shift in 1997. Allen has been a great Local 162 member during his time at UPS and he appreciates the strong wages and benefits the Union contract has provided him.
He also recognizes the great representation he has received from Local 162 over the years, including his Business Agent Ben Vedus and the entire staff at the Local. Allen's entire 40 year career was spent working part-time at UPS. He is retiring on a significant pension benefit from the Western Conferences of Teamsters Pension Trust. His retiree health care will be provided by the Teamsters Western Region and New Jersey Health Care Plan, a Plan negotiated and created out of the 2013 contract negotiations and where President Mark Davison serves as a Trustee.
Allen looks forward to relaxing during his retirement. Local 162 Officers and Staff wish Allen good luck on his next chapter and appreciate his years of service and dedication to his Union and trade.