SAFEWAY.COM Drivers Ratify First Contract with Teamsters Local 162 and 58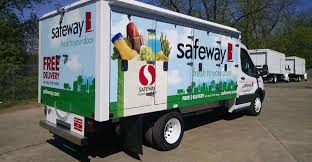 A series of ratification votes took place at Joe Edgar Union Hall on September 10, 2020, for the newly organized drivers at Safeway.Com in Oregon and S.W. Washington. The organizing campaign was a joint effort of Teamsters Local 162 in Portland, Oregon and Local 58 in Vancouver, Washington. The contract was overwhelmingly ratified by these new Teamsters and takes effect on September 13th.
Bobby Rispler took on this campaign as his first effort as a newly hired organizer at Local 162 and he was joined by Local 58 representative Mike Workman. Rispler did a great job explaining the new contract and addressing employee concerns as they cast their ballots in support of this first contract. The new contract addressed all of the employees non-economic concerns on safety, scheduling, seniority rights, hours of work, overtime, grievance procedure and just cause.
Bob Sleight, Secretary-Treasurer of Local 162, led the negotiations and made it a priority to address the employees top economic concerns. On the economic front the Union was able to increase wages, reduce individual and family health care costs and negotiate a retirement plan. This first contract includes a pension with the Western Conference of Teamsters Pension Trust Fund and establishes the foundation for a strong retirement for these newly organized Teamsters.
As consumers continue to shop from their homes on-line grocery delivery is growing at a face pace. The organizing vote to form a Union took place in February 2020. At that time the group consisted of 53 drivers and now during the pandemic has grown to over 82 drivers. This campaign is the second of its kind in the Teamsters Union and follows the lead of Teamsters Locals 174 and 313 whom achieved a first contract in 2019 for Safeway.Com employees in the Seattle/Tacoma area in Washington state.